| | |
| --- | --- |
| Posted on December 22, 2012 at 7:00 PM | |
Our own Peter Foley, the 1960s? Doncaster's Charlie Williams, a decade earlier? Think sixty years before that!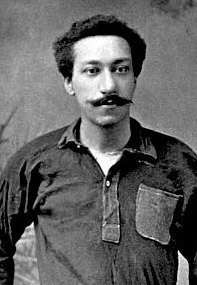 Step forward Arthur Wharton, widely accepted as the first black professional footballer in the British game. There's a decent biography of him on the "Football Unites, Racism Divides" website here and I can't improve on that, but I can ofer the match reports from the two visits that Arthur made to the Rec in the 1890s.
Firstly, from the game between our first eleven and Rotherham Town Reserves, who went under the monicker of "Rotherham United," in February 1893. The Sheffield League encounter attracted "more than ordinary" interest, reflected in a 3,000 gate, but in a newspaper that would advertise "real negroes" in a production of "Uncle Tom's Cabin" at the Stephenson Memeorial Hall around this time, no mention is made of the novelty of having a black player in our opponents' line-up.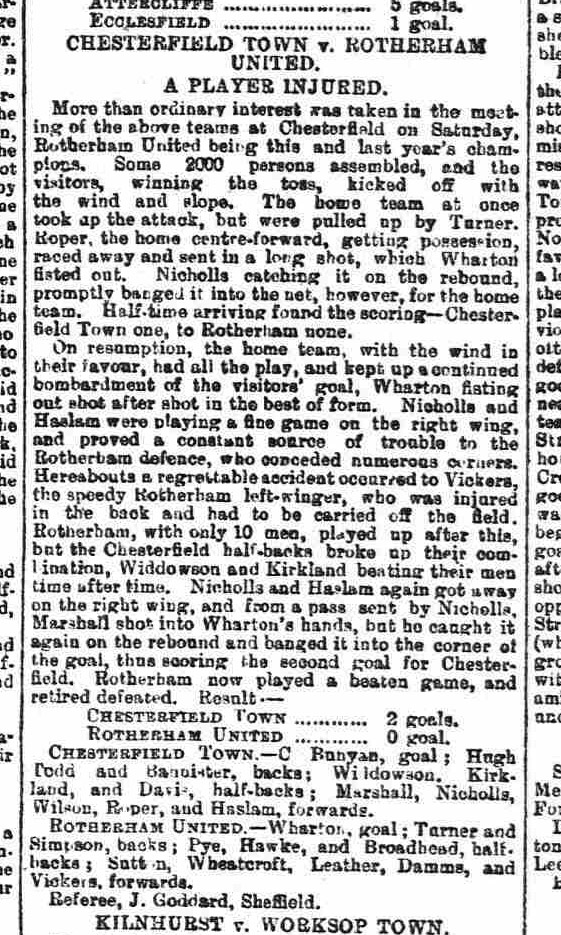 Arthur came back with Shefield United's reserve side in his one Bramall Lane season, on Easter Monday, 1895. Again, no mention of Wharton beyond that directly confined to his work between the sticks.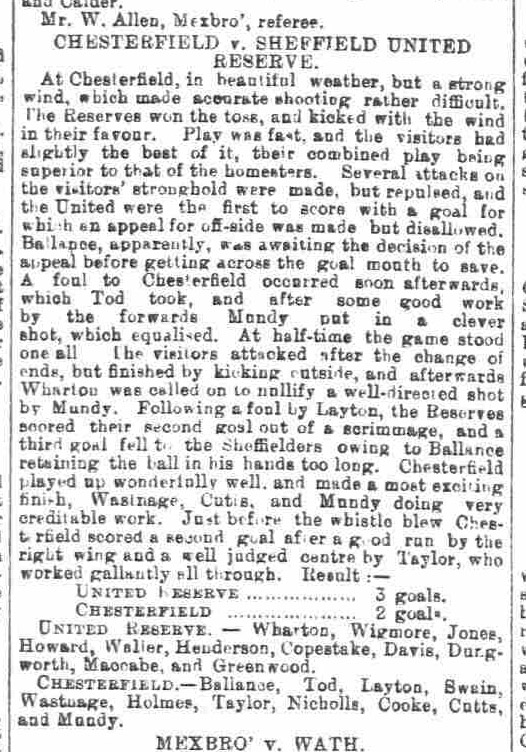 In an age when you can't open a newspaper without reading about the latest moron making racially-based insults to some player or other, it is intriguing to think that Wharton's appearances in Chesterfield seemed to pass without any non-football-related comment. I'm guessing that local football supporters would have been familiar with him and his story, and would have been concerned only with the quality of his goalkeeping. Then again, in this era, the local nut-jobs still had their cockpits and dog fights to entertain them!

| | |
| --- | --- |
| Posted on September 25, 2012 at 3:10 AM | |
So said The Derbyshire Times in 1886, after it emerged that the Spital club were making money offers to local players to join them.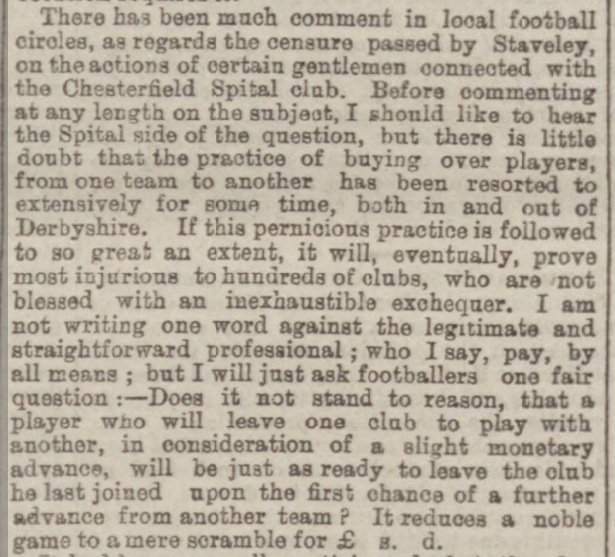 It is hard to find a good word for the Spital club in local papers. They are criticised for their tactics, for being a one-man team (with the diminutive winger Tommy Bishop being their Jack Lester,) for having a tiny ground and a terrible playing surface and for finding soft, well-paid jobs in the adjacent tobacco factory for their players.
It is fascinating, of course, to see just how much of this reporter's rant has come true. Every word of it, as far as I can see. Staveley, of course, resisted this onslaught for just another four years or so, before the directors of Sheffield United came to pillage a playing staff for their recently-formed club.
Stuart

| | |
| --- | --- |
| Posted on September 13, 2012 at 4:15 PM | |
You know me.  Put 10p in the slot and I'll bang on about the 1867 formation, dispassionately lopping a season off the accepted formation year, which is 1866, as any fule kno.
So, how would it be if I were to have found reference to a "Chesterfield Football club" in 1864?  Yeaaah.... you're listening to the old fool now, aren't you?!

This is from a Derbyshire Times of January 2nd, 1864:

I recall that the report of the 1867 club's first match talked about the game being "The first we have seen in this district for some time," or similar. The whole report can be viewed here. That of course opened up the possiblity of organised football having taken place in the district earlier than 1867, and here it is, apparently.
Where would this place the club's formation in the chronology of early organised football? We'd not be as old as Forest; we'd be as old as Stoke and older than our chums up the road. Of course, we know nothing of this club's constitution, Was it properly organised, as such? Was it a branch of the cricket club, as the 1867 one was? Perhaps not, you'd think, or the cricket club would have no need to form another one three years later.

So, do we celebrate 150 years of football in Chesterfield in 2013-14? Should we alert Jim Brown to get the tee-shirt printing presses rolling?  I reckon this cutting is more reliable than George Oram's Book of Football article where proof is concerned, so why the hell not?
Stuart

| | |
| --- | --- |
| Posted on August 27, 2012 at 10:10 AM | |
More Victorian fun, courtesy of the British Newspaper Archive and the Sheffield Independent. A match against Staveley is abandoned after a Chesterfield man's foul play causes a fight - at least, that's what the report says to me.

| | |
| --- | --- |
| Posted on August 24, 2012 at 10:10 AM | |
The question of the earliest-known Chesterfield programme is one that occasionally excites collectors. Tucked away in the 1879 reports of the Zulus match referenced elsewhere, is this:

I'd guess they were produced by the Zulus, rather than CFC;  I wonder if any have survived in Sheffield?

| | |
| --- | --- |
| Posted on August 21, 2012 at 8:50 AM | |
More ballooning adventures in the Victorian era. It's long, but worth reading, especially for the bit where they spend seven and a half hours filling it with coal gas! From 1859, I think, and the Rec' referred to is of course the old Recreation Ground (see the Rec' history article.)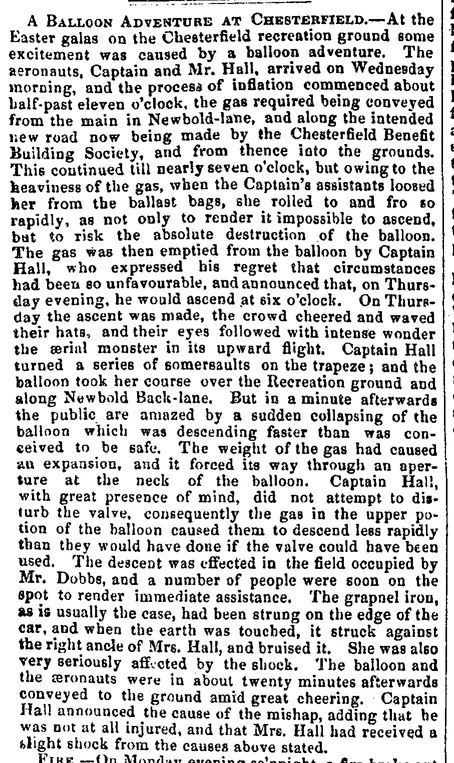 | | |
| --- | --- |
| Posted on August 21, 2012 at 2:40 AM | |
The Rec' as a multi-purpose venue that makes money on an all-year-round basis: How they did it in 1873. Electric Gymnasts, Balloons (including one stuffed full of fireworks and allowed to drift into the evening sky) and real black people! You're forced to wonder how Elton John would have topped all that!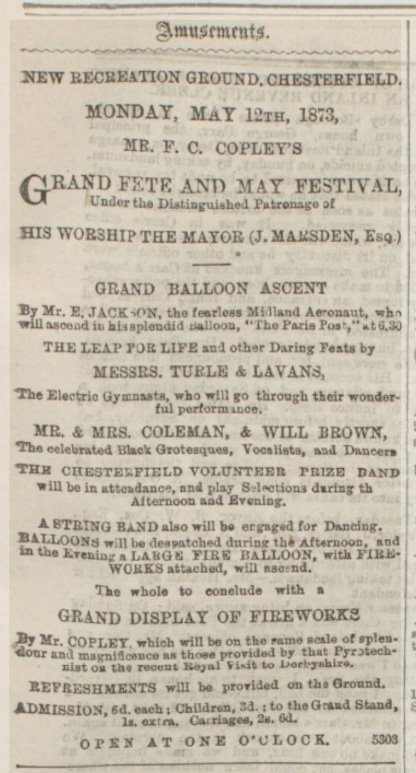 | | |
| --- | --- |
| Posted on August 18, 2012 at 4:25 AM | |
I'm a bit of a British Newspaper Archive junkie, which means that occasionally I come across reports for matches like this one, from 1894. Enjoy!