| | |
| --- | --- |
| Posted on October 6, 2013 at 2:10 PM | |
First and foremost, congratulations to Morecambe for their spirited fightback to overturn a 3-0 halftime deficit and win, on Saturday 5th October 2013. Where does this archetypal "Game of two halves" stand in our history?

Going back to the formation of the Third Division (North) in 1921, we have had at least 95 halftime leads of three clear goals in first-team, competitive matches. (Ten early halftime scores are yet to be found.) The Morecambe game was the first occasion on which an opponent has turned our lead around to win. Indeed, there is only one occasion where that lead has been levelled out - the 3-3 draw at Rotherham in the 2000-1 LDV Cup, which we went on to win with an extra-time "Golden Goal."
How about our fightbacks from 3-0 down? As with our surrendering a three-goal halftime lead, there are two occasions on which we've fought back from being three adrift at halftime. This comes from only 65 known instances of our being three goals to the bad at the 45-minute mark, some 30 less than the 3-goal leads we've held, but again, ten early halftime scores are not recorded.
On both occasions, we managed to draw from a seemilngly lost position. Our most recent recovery was in that tremendously exciting Crewe game in our 2010-11 championship season, when a 4-1 halftime deficit was turned into a 5-5 draw. Prior to that, we came back from 3-0 down at home to Doncaster in 1982-3 to earn a point.
Going deep into the history of Chesterfield football, CW Everest's Town team saw a Grimsby Town fightback turn a 3-0 Chesterfield lead into a 5-4 Mariners win in 1917, but this was in an era of wartime football and matches are not regarded as first-class. I personally recall seeing a shell-shocked Lincoln reserve side troop off the Saltergate turf 5-0 down at half time in 1991-2, before the mother of all half-time team talks saw them bring the game back to 5-5. A last-minute penalty finally settled the game in our favour.

It is important to remember that these are possibly not the only instances of us or our opponents being three up at some point in a game, and failing to win. What I've set out above are recoveries from a three-goal halftime deficit. And anyone who saw us surrender that lead at Morecambe can take comfort from the law of averages, which suggests that it'll be another 92 years before it happens again!

| | |
| --- | --- |
| Posted on April 27, 2013 at 4:00 AM | |
Two promotions and a championship have come the way of our first team, while other spireite sides have also brought honours to the club on this day.
The 2-0 defeat of Hartlepools United on April 27 1936 confirmed Chesterfield's status as champions of the Third Division (North) and secured their promotion to Division Two. It marked the start of what might legitimately be considered the brightest period in the club's history and also kick-started a programme of ground improvements that saw the erection of the new Archibald Leitch stand at Saltergate during the summer of 1936.
On this day in 1970, Chesterfield were crowned champions of Division Four. The 3-1 victory over Peterborough in front of 14,250 had been made unnecessary by results elsewhere during the previous week but it was welcomed by fans who saw this moment as the end of a 20-year decline.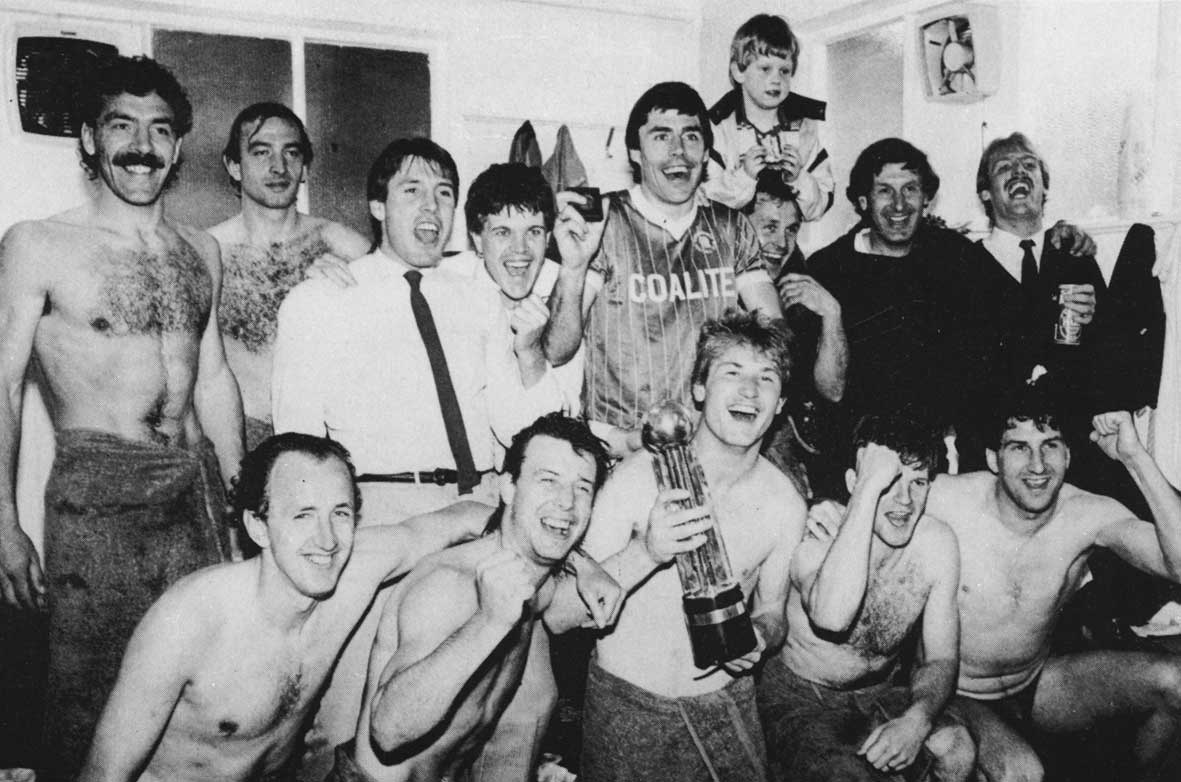 A rather more speedy recovery was completed on this day in 1985, when Chesterfield were promoted to Division Three after a 1-0 win at Stockport County, courtesy of a Les Hunter goal. This came only two years after the club had stood at the gates of oblivion and represented a tremendous achievement on the part of John Duncan, the manager. Above, the side celebrate their winning the Canon League Division Four championship. (Trophy believed stolen; last seen in 2001, if you can help with its current whereabouts.)

April 27 1938 saw Chesterfield's "A" team secured the championship of the Derbyshire Senior League by beating Sutton Town by the small matter of twenty goals to nil! All 20 were shared among the forwards, with centre-forward Jack Harker doing a "Joe Payne" and netting ten. Cynics among today's support will be amused to hear that Harker came in for training the following week to find he'd been given a free transfer!
Stuart

| | |
| --- | --- |
| Posted on April 4, 2013 at 2:05 PM | |
Scott Boden's unexpected recall to the Spireite colours from loan at Alfreton Town means that Jon Howard is no longer safe in his position as Chesterfield's most-used substitute. Averaging a goal every five games from his 20 starts, Scott has come off the bench 83 times to net 11 goals. His starting record is therefore nearly twice as good as his scoring record when coming off the bench, yet it is for his achievements in that latter capacity that he will be remembered. In all, Scott's substitute goalscoring has been directly responsible for winning The Spireites eleven points, that being the number of points gained as a result of his goals improving a game's pre-substitution scoreline in favour of Chesterfield.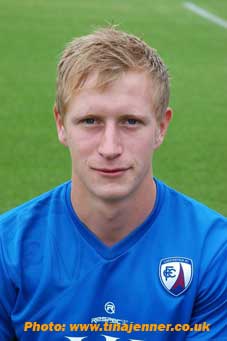 As things stand on April 4th 2013, Jon Howard has made just one more sub appearance than Scott - 84 in the League - to go with his 152 starts. He scored 39 goals in his career. Behind these two, Harry Willis trails in third with 67 sub appearances in the League, while Jordan Bowery, with 50, is the highest-placed player who made fewer starts (33) than he did sub games. Scott has five games left to make the two sub appearances he needs to become our most brought-on substitute.
| | |
| --- | --- |
| Posted on December 26, 2012 at 6:40 AM | |
Given its status as a "traditional" football day it shouldn't come as much surprise to learn that we've played more on December 26 than any other day. Our 63 games to date have seen 27 wins, 16 draws and 20 defeats, with 93 goals being scored and 78 conceded. The game against York City is only our second Boxing Day home game in the last seven years – of the 63 games we've played on this day, 29 have been home matches.
Is this a traditional day for local "derbies?" the facts would appear to say not, with only 12 of our 63 games on this day being against local-ish sides in Mansfield Town, Notts County and Rotherham United.
The highest crowd ever to watch us play in the Football League – 61,879 – came to see us edged out 1-0 at White Hart Lane on this day in 1949.
We've met York City once before on this day, and it ended in a calamitous 1-7 defeat at Bootham Crescent in 1964.
Chesterfield took part in a real football rarity on this day in 1972 – the only Football League game that was played to a finish but subsequently re-played. We travelled to Blackburn Rovers for a fixture between two mid-table, third division sides, and gave a debut to new signing Jim Brown in the nets. We ran out 1-0 winners with a Frank Large goal to become only the second visiting side to win in the league at Ewood Park that season. Unfortunately, these were thedays when a dodgy fax machine was a mere figment of a crooked chairman's imagination and Jim's registration papers were geunuinely lost in the post. When thepapers arrived at League Mansions with a pre-matchday postmark it was clear that we'd acted properly, but rules were rules, and the game was ordered to be re-played, much to the delight of a Blackburn side that had been unbeaten in all but one of their games since losing to us. Justice was done when a Jackie Sinclair goal saw the Spireites to another 1-0 win, later that season.
Elsewhere in football, Ghana's first football club – Excelsior – was formed on this day in1903. Football took quite a hold in the British colony of Gold Coast, as it was known, and Excelsior soon found themselves up against teams like Hearts of Oak, Venomous Vipers and my own personal favourite, the Mysterious Dwarves. (Hat tip to www.tdifh.blogspot.com)
This day in1935 saw Tranmere Rovers beat Oldham 13-4, with the Rovers forward "Bunny" Bell setting a new record (later eclipsed by Brimington's Joe Payne) by scoring nine goals in a Football League game.
| | |
| --- | --- |
| Posted on December 22, 2012 at 7:00 PM | |
Our own Peter Foley, the 1960s? Doncaster's Charlie Williams, a decade earlier? Think sixty years before that!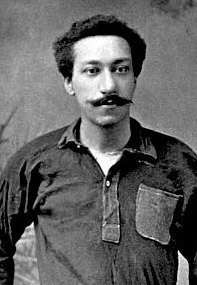 Step forward Arthur Wharton, widely accepted as the first black professional footballer in the British game. There's a decent biography of him on the "Football Unites, Racism Divides" website here and I can't improve on that, but I can ofer the match reports from the two visits that Arthur made to the Rec in the 1890s.
Firstly, from the game between our first eleven and Rotherham Town Reserves, who went under the monicker of "Rotherham United," in February 1893. The Sheffield League encounter attracted "more than ordinary" interest, reflected in a 3,000 gate, but in a newspaper that would advertise "real negroes" in a production of "Uncle Tom's Cabin" at the Stephenson Memeorial Hall around this time, no mention is made of the novelty of having a black player in our opponents' line-up.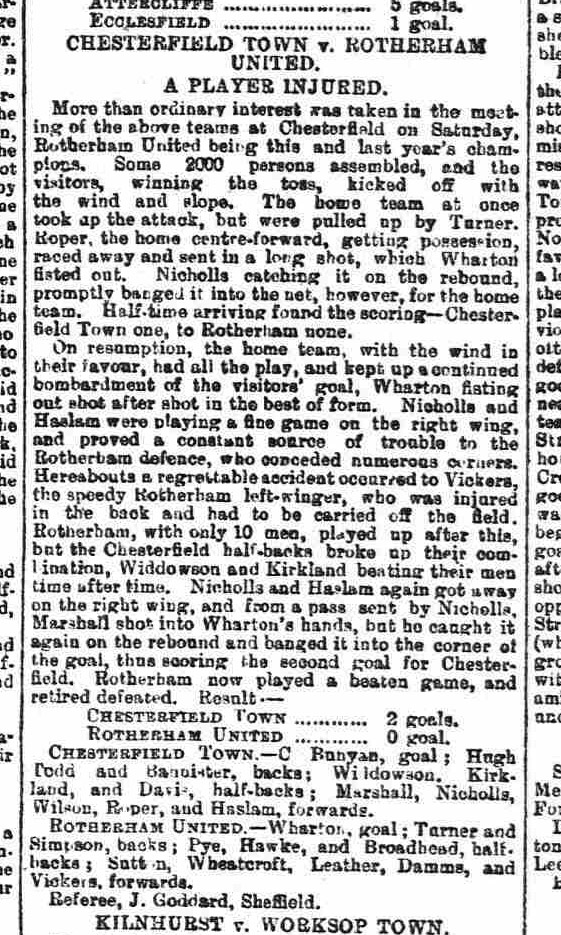 Arthur came back with Shefield United's reserve side in his one Bramall Lane season, on Easter Monday, 1895. Again, no mention of Wharton beyond that directly confined to his work between the sticks.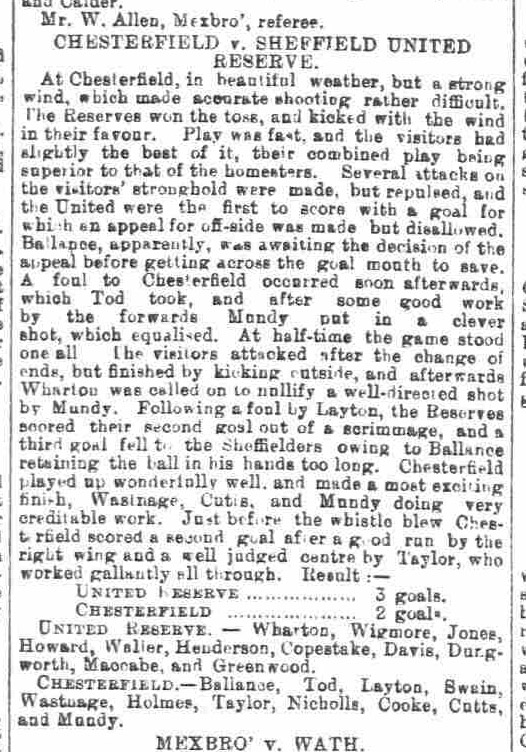 In an age when you can't open a newspaper without reading about the latest moron making racially-based insults to some player or other, it is intriguing to think that Wharton's appearances in Chesterfield seemed to pass without any non-football-related comment. I'm guessing that local football supporters would have been familiar with him and his story, and would have been concerned only with the quality of his goalkeeping. Then again, in this era, the local nut-jobs still had their cockpits and dog fights to entertain them!

| | |
| --- | --- |
| Posted on December 18, 2012 at 7:35 PM | |
Jay O'Shea's goal against Port Vale on December 8th, 2012 was the fourth scored by a Chesterfield FC Football League debutant this season. Chris Atkinson got the ball roling against Wycombe, then Ben Dickenson and Liam Cooper added goals against Bristol rovers and Oxford United.
This equals a record set in 1900-1 when four players scored on their league debuts; this was matched again in 1928-9, but was not equalled again until last season, before this term.

Interestingly, all our debut scorers this season are players on loan from other clubs; last season, three of our debut scorers were loan men, with only Jimmy Juan being on any sort of Chesterfield contract.
With around half the season to go, and with the prospect of more signings coming in if any of our current loanees have to return to their parent clubs, it is perfectly possible that a new record will be set for debut goalscorers in 2012-13.

| | |
| --- | --- |
| Posted on November 3, 2012 at 7:10 PM | |
Record win:
Chesterfield's tremendous 6-1 win over Hartlepool in the FA Cup on November 3rd saw The Spireites score six goals in a match in  the competition proper for the first time.
To find a bigger win at this stage of the competition we must go back to 1913-14. In those days, the fifth qualifying round was the equivalent of today's first round proper, for the number of teams involved in it. On December 17th 1913 we played North Shields at home in a 4th qualifying round replay, and beat them 8-2 (with only three different goalscorers.) Half the regular North Shields team couldn't get time off work for the game and the ref kicked off early to allow for the possibility of extra-time (no floodlights, of course.) We were apparently 5-0 up before the advertised kick-off time!
We beat Dronfield Woodhouse 11-1 in the preliminary round in1920-1. The game was drawn to be away, but played at Saltergate.
Most goalscorers:
Anyone from County Durham had best look away, now.

Chesterfield had six different goalscorers in a game for only the fourth time in its history. Here are the other three: 
25.4.1931: Chesterfield 8 Gateshead 1. Pynegar 3, Binks, Lee, T Bell, Schofield (pen,) Thornewell.
20.10.1956: Chesterfield 6, Gateshead 0. Hutchinson, Smallwood, F Capel, Sowden, Havenhand, Burrell.
9.3.1963: Chesterfield 6 Darlington 1. Lovie, Poole, Duncan, Meredith, Rackstraw, Clarke.
Chesterfield Town equalled the feat once:
19.4.1902: Chesterfield Town 8 Stockport County 1. Munday 3, Brown, McCracken, Earl, Taylor, O'Rourke.
Trainee debut:
Given the resources of a club like ours, it was perhaps a failing of the Sheridan regime that no trainee players were given at least a small taste of first-team action under his stewardship. By coming on late in the game against Hartlepool, Jack Broadhead thus became the first trainee to play for Chesterfield's first team since Jordan Bowery in 2008-9. He was the first trainee defender to do so since Ashley Foyle in 2005-6, but it should be remembered that Foyle was part of a training scheme that briefly ran for three years; having turned 18 just one month ago, Jack is therefore the youngest defender to debut for Chesterfield since Gregg Pearce, in 1997.
No doubt more milestones will occur to us over the days to come (most goals in a game from non-forwards, anyone?) and we'll investigate these, as they do.

| | |
| --- | --- |
| Posted on September 21, 2012 at 2:10 PM | |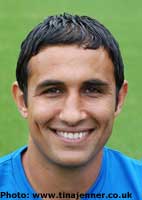 Jack Lester's fine form at the start of this season encourages us to consider if he might soon be the fastest player to 100 senior career goals for Chesterfield. So far, Jack has found the net 88 times from 162 full and 25 substitute appearances.

Only four players, so far, have reached that milestone. Herbert Munday did it for the old Town side, scoring his 100th goal in his 219th game after his first Football League appearance. Herbert remains the fastest. He might have got to 100 a tad faster if I had counted FA Cup appearances made in the period before the Town club joined the Football League, but in the interests of establishing a level playing-field I decided to count only those appearances made after the Town club assumed first-class status in 1899.
George Smith wasn't so far behind Herbert. He took 252 games to record his 100th career goal for Chesterfield, while Kevin Randall took only nine more. As if to indicate that scoring goals has become gradually more difficult over the years Ernie Moss, our record scorer and the most recent to 100, reached the milestone after 303+1 games. Ernie is the only one so far to have complicated the issue with a substitute appearance.
Jack Lester's brace against Accrington the other night were the 87th and 88th goals of his Chesterfield career. In his 162nd start, Jack thus equalled Bryan Frear, whose 88 career goals were scored in 306 appearances although, in Frear's defence, it must be added that he had two and a half seasons playing in the halfback line - the footall equivalent of trying to hammer a square peg as big as Canada into a round hole the size of Pontefract.  In that time he scored just ten goals and would certainly have added another 20 or so goals to his total had he been played as a forward throughout his whole CFC career.
Jack's next target is Jimmy Cookson's 89 career goals; one thing Jack can't do is get them any quicker, since Jimmy's came from a remarkable 79 appearances.
One last potential complication - Jack's 25 substitute appearances. What do we do with these? He has been a scoring subsitute on two occasions - both this season - but has also had some games where he has come on so late as to be unable to exert any influence. Nevertheless, we are talking "career appearances" and I am therefore inclined to add the sub games to the overall appearance totals for the purposes of seeing who is fastest to the 100 goal milestone. This would make it "touch and go" with Munday.
Opinions welcomed via the "comments" section at the bottom of this page, please!

Stuart
| | |
| --- | --- |
| Posted on September 13, 2012 at 4:15 PM | |
You know me.  Put 10p in the slot and I'll bang on about the 1867 formation, dispassionately lopping a season off the accepted formation year, which is 1866, as any fule kno.
So, how would it be if I were to have found reference to a "Chesterfield Football club" in 1864?  Yeaaah.... you're listening to the old fool now, aren't you?!

This is from a Derbyshire Times of January 2nd, 1864:

I recall that the report of the 1867 club's first match talked about the game being "The first we have seen in this district for some time," or similar. The whole report can be viewed here. That of course opened up the possiblity of organised football having taken place in the district earlier than 1867, and here it is, apparently.
Where would this place the club's formation in the chronology of early organised football? We'd not be as old as Forest; we'd be as old as Stoke and older than our chums up the road. Of course, we know nothing of this club's constitution, Was it properly organised, as such? Was it a branch of the cricket club, as the 1867 one was? Perhaps not, you'd think, or the cricket club would have no need to form another one three years later.

So, do we celebrate 150 years of football in Chesterfield in 2013-14? Should we alert Jim Brown to get the tee-shirt printing presses rolling?  I reckon this cutting is more reliable than George Oram's Book of Football article where proof is concerned, so why the hell not?
Stuart

| | |
| --- | --- |
| Posted on September 8, 2012 at 10:00 AM | |
Richard O'Donnell and Jacob Hazel became the 34th and 35th players to make a full, competitive debut against York City when play began at Bootham Crescent on September 8th, 2012. Ten of those previous debuts were made by players in cup competitions, so in Football League terms, they are our 24th and 25th against The Minstermen.
O'Donnell is only the second Spireite keeper to debut against York and, listening to the commentary, he's already done better than Mike Pollitt, who conceded in the opening minute of his debut on the opening day of the "Darren Brown" season.
Six players made their debuts against York that day; apart from Pollitt, the starters were Steve Tutill, Lee Richardson, Sean Parrish and Luke Beckett, while Jamie Ingledow came off the bench to make his first appearance for the club.

Four of our debutants scored during their opening game; Harold Roberts, in the 1945-6 FA Cup, and Gwyn Lewis, Rob Alleyne and Sean Parrish in league matches.
The last Chesterfield player to make his full Football League debut against York and end up on the losing side was George Duncan, on August 26th, 1961.