| | |
| --- | --- |
| Posted on September 8, 2012 at 4:20 AM | |
The injury to Tommy Lee has, we hear, led to Mark Crossley re-registering as a player, just in case. If he is named on the bench for the trip to York he will sit there at the age of 43 years and 86 days.  Already our oldest debutant, Norm could (if he made whatever happened to Richard O'Donnell look like an accident) get on as our oldest player, beating Billy Kidd's 40 years and 230 days by some distance.
He won't be our oldest bench-warmer just yet, though; that distinction belongs to another 'keeper, the evergreen Jim Brown, who kept the management company at the grand old age of 45 years, 188 days against Northwich Victoria in the FA Cup, first round, on November 15th, 1998.
Further reading: Chesterfield's oldest players

| | |
| --- | --- |
| Posted on September 7, 2012 at 6:30 PM | |
Richard O'Donnell will become the 107th September-born player to make his Football League bow for Chesterfield when we kick off at York on September 8th, so long as Norm doesn't nobble him, and play himself!
Richard will celebrate his 24th birthday four days later, and is one of nine Spireites born on Sptember 12th. He was born on the same date in 1988 as David Dowson (and yes, a future blog post will cover Spireites born on the same day!) and he shares his birthday with Spireite legend Steve Ogrizovic. Mind you, so did Rob Beckwith.
He'll be Chesterfield FC's 68th Football League goalkeeper, the third whose name begins with "O" and will have to concede fewer than six goals to enjoy a better debut than Nathan Abbey. He is our 79th Sheffielder; our other Dee-dah goalkeepers are Max Ashmore, Malcolm Brunt, Gordon Banks and Cyril Hibberd.
Richard was allocated number 13 in Chesterfield's squad. Since the introduction of a squad number system those Spireites who cocked a snook at superstition and wore that number are:
1999-2000: Andy Leaning & John Vaughan.
2000-1, 2001-2: Joel Armstrong.
2002-3, 2003-4, 2004-5, 2005-6, 2006-7: none.
2007-8: Felix Bastiens.
2008-9: none.
2009-10: Barry Conlon.

2010-11: Mark Crossley.

2011-12: Greg Fleming.
Felix Bastiens made a point of asking for the number, and was the only Spireite in seven seasons to wear it. Odd that - I'd never have had Rico down as a superstitious man!
Stuart

| | |
| --- | --- |
| Posted on September 7, 2012 at 2:20 PM | |
The debut of Jacob Hazel in the Johnstone's Paints Trophy on September 4th, 2012, raised the question of fathers and sons who had played for Chesterfield. Jacob, of course, is the son of Des Hazel, who made his debut in the 1994-5 play-off win over Mansfield Town.
Like we needed an excuse to post the link to this video!

Anyway, Jacob's appearance made the Hazel family the third to supply fathers and sons for competitive football matches in the Chesterfield blue. The others were the Hill family, from Blackwell, and the Roberts family, from Old Whittington. Harold Hill joined us in 1932 at the end of a good career at Notts and Wednesday, while his son Archie made just one league appearance in the 1947-8 season. Among the other ten Spireites in Archie's only game was Harold Roberts, whose son Peter played twice for our first team in the mid 1970s.
Three might become five over the course of the next couple of years, since Chesterfield's youth team includes Alex Hewitt, son of Jamie, and Ben Partridge, son of John. Already, the Hewitt family has provided three generations of players in some form of competitive matches, since Jamie's dad Les played a few times for the "A" team in the late 1940s.
If you can think of other fathers and sons that have appeared in any capacity for Chesterfield FC, please add via the comments box.
Stuart

| | |
| --- | --- |
| Posted on September 6, 2012 at 2:45 AM | |
...In the same game
The last time that happened in the Associate Members' Cup was [i]exactly[/i] five years to the day before Tuesday's JPT game against Oldham, when Ben Algar and Josh Law came off the bench against Hartlepool in whatever the JPT was in 2007. It's the sixth time two Chesterfield players have done that in the Associate Members' Cup, the list now being:
Darren Wood & Jason MacDonald, 1985-6
Steve Lenagh & Gregg Pearce, 1997-8
Adam Smith & Steve Warne, 2002-3
Michael Standing & Reuben Wiggins-Thomas, 2006-7
Josh Law & Ben Algar, 2007-8
Jacob Hazel & Richard O'Donnell, 2012-13
The following Chesterfield players made a double-sub debut in Football League games:

Charlie Boyd & Scott Cordner, 1990-1

Chris Perkins & Darren Roberts, 1994-5

Jason Bowater & James Lomas, 1996-7

Shaun Wilkinson & Shayne Bradley, 2002-3

Deane Smalley & Kelvin Lomax, 2010-11

That's twenty-two players - enough to make two teams, if two of them were stuck in the nets.
Hat-tip to Paul Kellett for the extra research and info.

Chesterfield FC:  1930-1 Division Three (North) champions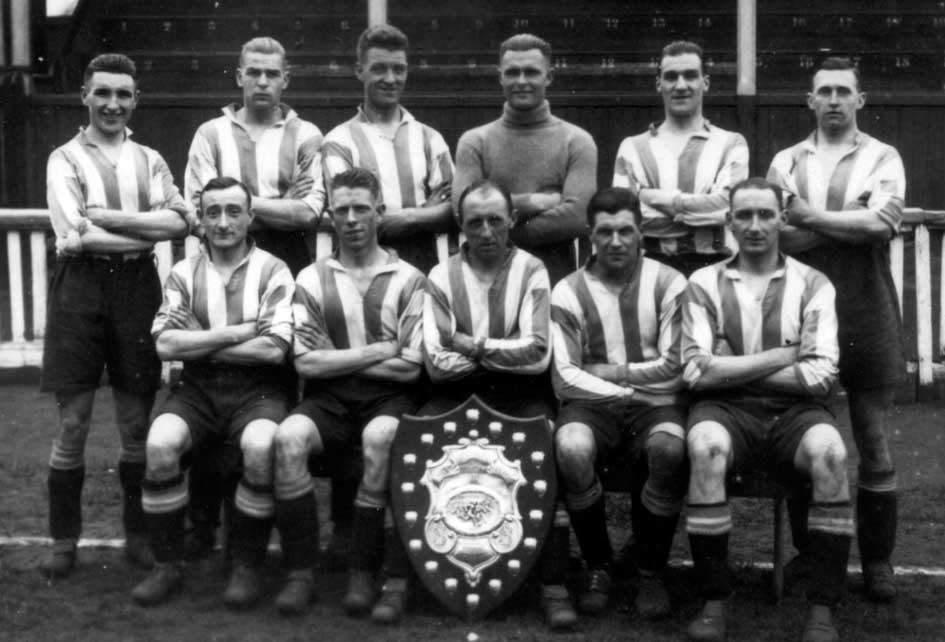 Back row: Harry Cousins, Jimmy Holmes, David Robb, Bill Dolman, Harold Schofield, Dick Duckworth.
Front row: George Thornewell, Tom Bell, Albert Pynegar, Sid Binks, Jack Lee.