| | |
| --- | --- |
| Posted on December 22, 2012 at 7:00 PM | |
Our own Peter Foley, the 1960s? Doncaster's Charlie Williams, a decade earlier? Think sixty years before that!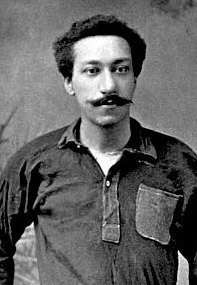 Step forward Arthur Wharton, widely accepted as the first black professional footballer in the British game. There's a decent biography of him on the "Football Unites, Racism Divides" website here and I can't improve on that, but I can ofer the match reports from the two visits that Arthur made to the Rec in the 1890s.
Firstly, from the game between our first eleven and Rotherham Town Reserves, who went under the monicker of "Rotherham United," in February 1893. The Sheffield League encounter attracted "more than ordinary" interest, reflected in a 3,000 gate, but in a newspaper that would advertise "real negroes" in a production of "Uncle Tom's Cabin" at the Stephenson Memeorial Hall around this time, no mention is made of the novelty of having a black player in our opponents' line-up.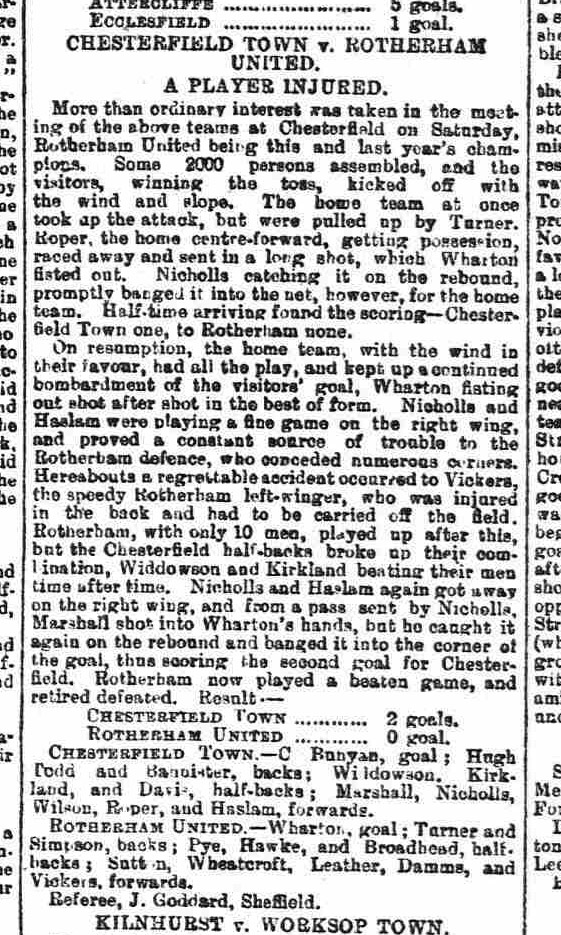 Arthur came back with Shefield United's reserve side in his one Bramall Lane season, on Easter Monday, 1895. Again, no mention of Wharton beyond that directly confined to his work between the sticks.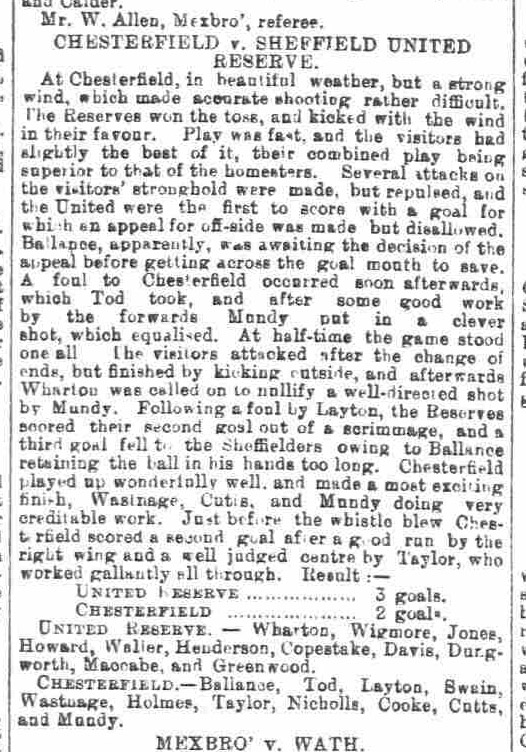 In an age when you can't open a newspaper without reading about the latest moron making racially-based insults to some player or other, it is intriguing to think that Wharton's appearances in Chesterfield seemed to pass without any non-football-related comment. I'm guessing that local football supporters would have been familiar with him and his story, and would have been concerned only with the quality of his goalkeeping. Then again, in this era, the local nut-jobs still had their cockpits and dog fights to entertain them!

| | |
| --- | --- |
| Posted on September 8, 2012 at 4:20 AM | |
The injury to Tommy Lee has, we hear, led to Mark Crossley re-registering as a player, just in case. If he is named on the bench for the trip to York he will sit there at the age of 43 years and 86 days.  Already our oldest debutant, Norm could (if he made whatever happened to Richard O'Donnell look like an accident) get on as our oldest player, beating Billy Kidd's 40 years and 230 days by some distance.
He won't be our oldest bench-warmer just yet, though; that distinction belongs to another 'keeper, the evergreen Jim Brown, who kept the management company at the grand old age of 45 years, 188 days against Northwich Victoria in the FA Cup, first round, on November 15th, 1998.
Further reading: Chesterfield's oldest players

| | |
| --- | --- |
| Posted on September 7, 2012 at 6:30 PM | |
Richard O'Donnell will become the 107th September-born player to make his Football League bow for Chesterfield when we kick off at York on September 8th, so long as Norm doesn't nobble him, and play himself!
Richard will celebrate his 24th birthday four days later, and is one of nine Spireites born on Sptember 12th. He was born on the same date in 1988 as David Dowson (and yes, a future blog post will cover Spireites born on the same day!) and he shares his birthday with Spireite legend Steve Ogrizovic. Mind you, so did Rob Beckwith.
He'll be Chesterfield FC's 68th Football League goalkeeper, the third whose name begins with "O" and will have to concede fewer than six goals to enjoy a better debut than Nathan Abbey. He is our 79th Sheffielder; our other Dee-dah goalkeepers are Max Ashmore, Malcolm Brunt, Gordon Banks and Cyril Hibberd.
Richard was allocated number 13 in Chesterfield's squad. Since the introduction of a squad number system those Spireites who cocked a snook at superstition and wore that number are:
1999-2000: Andy Leaning & John Vaughan.
2000-1, 2001-2: Joel Armstrong.
2002-3, 2003-4, 2004-5, 2005-6, 2006-7: none.
2007-8: Felix Bastiens.
2008-9: none.
2009-10: Barry Conlon.

2010-11: Mark Crossley.

2011-12: Greg Fleming.
Felix Bastiens made a point of asking for the number, and was the only Spireite in seven seasons to wear it. Odd that - I'd never have had Rico down as a superstitious man!
Stuart