| | |
| --- | --- |
| Posted on October 3, 2012 at 12:20 PM | |
The gate at Morecambe's Globe Arena for Tuesday night's visit of Chesterfield constituted 1,285 hardy souls. That goes down as the seventh-lowest gate figure for a Football League game involving Chesterfield since reliable records were first kept in 1926.
In Chesterfield Town's Football League days there were reckoned to be a number of sub-1000 gates. Match reports of the game at home to Bolton in 1899-1900, the club's first season, mention an estimated attendance of 500, and a report of the Luton game at Saltergate later that season says that the gate was lower than the Bolton one. Both of these were for midweek games, in poor weather.
Coming in at 6th place in Chesterfield's all-time low league gate list is the 1,231 who attended the game at Wigan at the start of the 1994-5 season. Nine fewer people (but none of the same ones, I bet) attended the remarkably-named Holiday Park, in Durham, when Chesterfield went to play the City side in 1927. As few as 1,177 went to Rochdale to see us play in December 1984 - another season of success for Chesterfield.
Sensationally, there is a tie for second-place in the all-time lowest attendance list, with 1,039 folk coming to our games at Wrexham in 1984 and Ashington in 1929.
The worst? Eight days before that Wrexham game we went to The Shay, to play Halifax Town. They used to say that 1,001 cleaned a big, big carpet for less than half a crown, which was probably what Halifax Town found in its gatemen's cash bags after that many fans showed up. Oddly, we played another game at The Shay four years later in the Associate Members' competition, and they declared the same attendance for that. Some of us present thought there were noticeably fewer than 1001 there that night and that the club had not wanted the embarrassment of a three-figure gate.
Looking beyond Football League games we've been involved in ten games that have drawn less than 1000 fans. They were all in the Associate Members Cup, or its pre-WW2 equivalent, and only two were at Saltergate; these were, bizarrely, a local derby against Mansfield, and the lowest reliably-recorded gate we've ever played in front of, 454 for Walsall's visit in 1936 - again, a promotion season!
Stuart
| | |
| --- | --- |
| Posted on September 8, 2012 at 6:55 PM | |
Chesterfield's defence of the Johnstone's Paint Trophy will take them to the Keepmoat Stadium, in Doncaster, on Tuesday October 9th to try conclusions with the Rovers.
Good news, everyone! We have an unbeaten record against Rovers in the Associate Member Cup (now Football League Trophy) competitions!! Since the idea of a pot for associate members was revived in the early 1980s we've played Rovers twice, drawing both games. We enjoyed a goalless draw at Belle Vue on December 9th 1986, in front of 1,006 spectators, while a match at Saltergate on November 6th 1990 ended in a 1-1 draw, thanks to a Paul Lemon goal, with a thunderingly grand 2,757 fans present. (going off on a tangent, Town fans have always had a bit of an irrational love-in with the early rounds of the modern AMC, never once having registered a sub-1000 gate for a home game. Not a boast that a lot of "traditional" level 3/4 clubs can make.)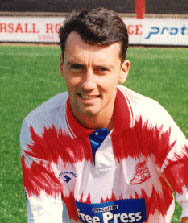 Some random Donny player...
So have Rovers an ubeaten record against us, too? Well, not quite. In 1933-4 they came to Saltergate in the very fist season of the old Associate Members Cup, and Chesterfield won 3-2 in front of 2,703 fans. This earlier manifestation of the competition did not catch the public's imagnation; indeed, Chesterfield's lowest reliably-recorded gate for any sort of competitive match ast Saltergate was the 454 who braved February's chill to come out for a match against Walsall in the 1935-6 season.
Stuart