| | |
| --- | --- |
| Posted on December 26, 2012 at 6:40 AM | |
Given its status as a "traditional" football day it shouldn't come as much surprise to learn that we've played more on December 26 than any other day. Our 63 games to date have seen 27 wins, 16 draws and 20 defeats, with 93 goals being scored and 78 conceded. The game against York City is only our second Boxing Day home game in the last seven years – of the 63 games we've played on this day, 29 have been home matches.
Is this a traditional day for local "derbies?" the facts would appear to say not, with only 12 of our 63 games on this day being against local-ish sides in Mansfield Town, Notts County and Rotherham United.
The highest crowd ever to watch us play in the Football League – 61,879 – came to see us edged out 1-0 at White Hart Lane on this day in 1949.
We've met York City once before on this day, and it ended in a calamitous 1-7 defeat at Bootham Crescent in 1964.
Chesterfield took part in a real football rarity on this day in 1972 – the only Football League game that was played to a finish but subsequently re-played. We travelled to Blackburn Rovers for a fixture between two mid-table, third division sides, and gave a debut to new signing Jim Brown in the nets. We ran out 1-0 winners with a Frank Large goal to become only the second visiting side to win in the league at Ewood Park that season. Unfortunately, these were thedays when a dodgy fax machine was a mere figment of a crooked chairman's imagination and Jim's registration papers were geunuinely lost in the post. When thepapers arrived at League Mansions with a pre-matchday postmark it was clear that we'd acted properly, but rules were rules, and the game was ordered to be re-played, much to the delight of a Blackburn side that had been unbeaten in all but one of their games since losing to us. Justice was done when a Jackie Sinclair goal saw the Spireites to another 1-0 win, later that season.
Elsewhere in football, Ghana's first football club – Excelsior – was formed on this day in1903. Football took quite a hold in the British colony of Gold Coast, as it was known, and Excelsior soon found themselves up against teams like Hearts of Oak, Venomous Vipers and my own personal favourite, the Mysterious Dwarves. (Hat tip to www.tdifh.blogspot.com)
This day in1935 saw Tranmere Rovers beat Oldham 13-4, with the Rovers forward "Bunny" Bell setting a new record (later eclipsed by Brimington's Joe Payne) by scoring nine goals in a Football League game.
| | |
| --- | --- |
| Posted on December 18, 2012 at 7:35 PM | |
Jay O'Shea's goal against Port Vale on December 8th, 2012 was the fourth scored by a Chesterfield FC Football League debutant this season. Chris Atkinson got the ball roling against Wycombe, then Ben Dickenson and Liam Cooper added goals against Bristol rovers and Oxford United.
This equals a record set in 1900-1 when four players scored on their league debuts; this was matched again in 1928-9, but was not equalled again until last season, before this term.

Interestingly, all our debut scorers this season are players on loan from other clubs; last season, three of our debut scorers were loan men, with only Jimmy Juan being on any sort of Chesterfield contract.
With around half the season to go, and with the prospect of more signings coming in if any of our current loanees have to return to their parent clubs, it is perfectly possible that a new record will be set for debut goalscorers in 2012-13.

| | |
| --- | --- |
| Posted on November 3, 2012 at 7:10 PM | |
Record win:
Chesterfield's tremendous 6-1 win over Hartlepool in the FA Cup on November 3rd saw The Spireites score six goals in a match in  the competition proper for the first time.
To find a bigger win at this stage of the competition we must go back to 1913-14. In those days, the fifth qualifying round was the equivalent of today's first round proper, for the number of teams involved in it. On December 17th 1913 we played North Shields at home in a 4th qualifying round replay, and beat them 8-2 (with only three different goalscorers.) Half the regular North Shields team couldn't get time off work for the game and the ref kicked off early to allow for the possibility of extra-time (no floodlights, of course.) We were apparently 5-0 up before the advertised kick-off time!
We beat Dronfield Woodhouse 11-1 in the preliminary round in1920-1. The game was drawn to be away, but played at Saltergate.
Most goalscorers:
Anyone from County Durham had best look away, now.

Chesterfield had six different goalscorers in a game for only the fourth time in its history. Here are the other three: 
25.4.1931: Chesterfield 8 Gateshead 1. Pynegar 3, Binks, Lee, T Bell, Schofield (pen,) Thornewell.
20.10.1956: Chesterfield 6, Gateshead 0. Hutchinson, Smallwood, F Capel, Sowden, Havenhand, Burrell.
9.3.1963: Chesterfield 6 Darlington 1. Lovie, Poole, Duncan, Meredith, Rackstraw, Clarke.
Chesterfield Town equalled the feat once:
19.4.1902: Chesterfield Town 8 Stockport County 1. Munday 3, Brown, McCracken, Earl, Taylor, O'Rourke.
Trainee debut:
Given the resources of a club like ours, it was perhaps a failing of the Sheridan regime that no trainee players were given at least a small taste of first-team action under his stewardship. By coming on late in the game against Hartlepool, Jack Broadhead thus became the first trainee to play for Chesterfield's first team since Jordan Bowery in 2008-9. He was the first trainee defender to do so since Ashley Foyle in 2005-6, but it should be remembered that Foyle was part of a training scheme that briefly ran for three years; having turned 18 just one month ago, Jack is therefore the youngest defender to debut for Chesterfield since Gregg Pearce, in 1997.
No doubt more milestones will occur to us over the days to come (most goals in a game from non-forwards, anyone?) and we'll investigate these, as they do.

| | |
| --- | --- |
| Posted on November 2, 2012 at 2:55 PM | |
You don't have to be Nosferatu, or whatever his name was, to predict that Liam Cooper will start for Chesterfield in their FA Cup, first round tie woth Hartlepool United at the Proact Stadium on Saturday November 3rd. The Hull City loanee joins a side in the grip of an injury and suspension crisis that has robbed it of two central defenders, so his selection can be taken for granted.
Who was the last Chesterfield player to make a debut in an FA Cup tie? Usually, of course, these games are afforded an importance that would prevent their being used to give debuts to players. Tendayi Darikwa came off the bench to make his first first-team, competitive appearance against Burton Albion in the Cup a couple of years ago, and Mick Higginbottom made his first Spireite appearance as a sub against Burnley in 1983-4.
There was a bit of an injury crisis at the club on the last occasion of a player making a full debut in an FA Cup match, and again a young centre-half was asked to step up to the plate. If Liam Cooper turns out to play half the number of games as Les Hunter, he'll have a pretty good career.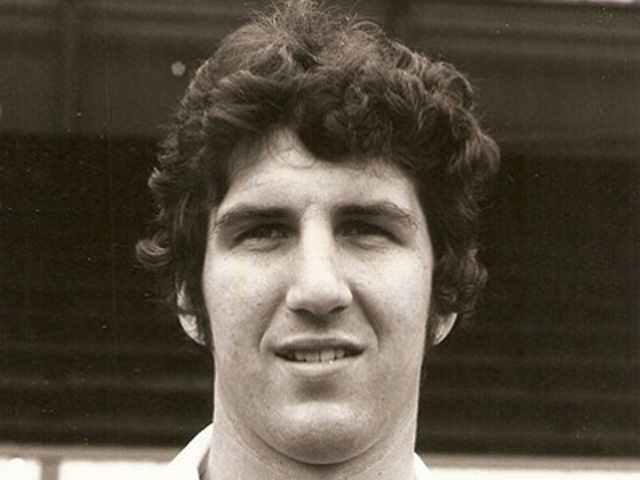 Les made his Chesterfield debut against Boston United in the first round in 1974-5 and went on to forge a Chesterfield career that ran to 286 full league appearances. Overall, he played 396 matches for ourselves, Scunthorpe and Lincoln City.
Stuart

| | |
| --- | --- |
| Posted on September 16, 2012 at 4:35 AM | |
Some bits and pieces arising from the game against Wycombe Wanderers on September 15th, 2012:
Chris Atkinson became the first Chesterfield player to make a debut on September 15th. He is the first to score on his full debut since Nick Ajose at Bury, last season. If you include Chesterfield Town men (and Warren Hawke's "chalked off" goal against Aldershot) then the Huddersfield loanee is the 108th player to score on his debut for us.
After waiting two seasons for our first proper OG at the new ground, we now have two in a fortnight, with Neil Trotman's close-range "could have gone anywhere" thunderer that briefly made it "Game on!" against Wycombe.
Wycombe's Leon Johnson became only the second opposing player to be sent off at the Proact Stadium, and easily the earliest, joining Stevenage's Michael Bostwick, who was dismissed on the opening day of last season. Chesterfield have gone on to score at least one goal and get something from the game on each occasion. Who says we can't play against ten men?
I'm racking my brains for the name of the last Chesterfield player (before Dean Morgan, of course) to debut for his next club against Chesterfield. Please leave comments if you can help.
Finally - is it my imagination, or did both halves finish with Wycombe being awarded a corner that there wasn't time to take? Comments again, please, if you saw it differently.
Stuart

| | |
| --- | --- |
| Posted on September 8, 2012 at 10:00 AM | |
Richard O'Donnell and Jacob Hazel became the 34th and 35th players to make a full, competitive debut against York City when play began at Bootham Crescent on September 8th, 2012. Ten of those previous debuts were made by players in cup competitions, so in Football League terms, they are our 24th and 25th against The Minstermen.
O'Donnell is only the second Spireite keeper to debut against York and, listening to the commentary, he's already done better than Mike Pollitt, who conceded in the opening minute of his debut on the opening day of the "Darren Brown" season.
Six players made their debuts against York that day; apart from Pollitt, the starters were Steve Tutill, Lee Richardson, Sean Parrish and Luke Beckett, while Jamie Ingledow came off the bench to make his first appearance for the club.

Four of our debutants scored during their opening game; Harold Roberts, in the 1945-6 FA Cup, and Gwyn Lewis, Rob Alleyne and Sean Parrish in league matches.
The last Chesterfield player to make his full Football League debut against York and end up on the losing side was George Duncan, on August 26th, 1961.