| | |
| --- | --- |
| Posted on September 8, 2012 at 6:55 PM | |
Chesterfield's defence of the Johnstone's Paint Trophy will take them to the Keepmoat Stadium, in Doncaster, on Tuesday October 9th to try conclusions with the Rovers.
Good news, everyone! We have an unbeaten record against Rovers in the Associate Member Cup (now Football League Trophy) competitions!! Since the idea of a pot for associate members was revived in the early 1980s we've played Rovers twice, drawing both games. We enjoyed a goalless draw at Belle Vue on December 9th 1986, in front of 1,006 spectators, while a match at Saltergate on November 6th 1990 ended in a 1-1 draw, thanks to a Paul Lemon goal, with a thunderingly grand 2,757 fans present. (going off on a tangent, Town fans have always had a bit of an irrational love-in with the early rounds of the modern AMC, never once having registered a sub-1000 gate for a home game. Not a boast that a lot of "traditional" level 3/4 clubs can make.)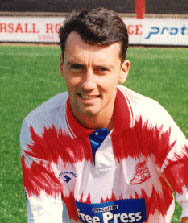 Some random Donny player...
So have Rovers an ubeaten record against us, too? Well, not quite. In 1933-4 they came to Saltergate in the very fist season of the old Associate Members Cup, and Chesterfield won 3-2 in front of 2,703 fans. This earlier manifestation of the competition did not catch the public's imagnation; indeed, Chesterfield's lowest reliably-recorded gate for any sort of competitive match ast Saltergate was the 454 who braved February's chill to come out for a match against Walsall in the 1935-6 season.
Stuart

Categories: Associate Members Cup, Doncaster Rovers