| | |
| --- | --- |
| Posted on September 21, 2012 at 2:10 PM | |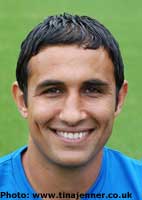 Jack Lester's fine form at the start of this season encourages us to consider if he might soon be the fastest player to 100 senior career goals for Chesterfield. So far, Jack has found the net 88 times from 162 full and 25 substitute appearances.

Only four players, so far, have reached that milestone. Herbert Munday did it for the old Town side, scoring his 100th goal in his 219th game after his first Football League appearance. Herbert remains the fastest. He might have got to 100 a tad faster if I had counted FA Cup appearances made in the period before the Town club joined the Football League, but in the interests of establishing a level playing-field I decided to count only those appearances made after the Town club assumed first-class status in 1899.
George Smith wasn't so far behind Herbert. He took 252 games to record his 100th career goal for Chesterfield, while Kevin Randall took only nine more. As if to indicate that scoring goals has become gradually more difficult over the years Ernie Moss, our record scorer and the most recent to 100, reached the milestone after 303+1 games. Ernie is the only one so far to have complicated the issue with a substitute appearance.
Jack Lester's brace against Accrington the other night were the 87th and 88th goals of his Chesterfield career. In his 162nd start, Jack thus equalled Bryan Frear, whose 88 career goals were scored in 306 appearances although, in Frear's defence, it must be added that he had two and a half seasons playing in the halfback line - the footall equivalent of trying to hammer a square peg as big as Canada into a round hole the size of Pontefract.  In that time he scored just ten goals and would certainly have added another 20 or so goals to his total had he been played as a forward throughout his whole CFC career.
Jack's next target is Jimmy Cookson's 89 career goals; one thing Jack can't do is get them any quicker, since Jimmy's came from a remarkable 79 appearances.
One last potential complication - Jack's 25 substitute appearances. What do we do with these? He has been a scoring subsitute on two occasions - both this season - but has also had some games where he has come on so late as to be unable to exert any influence. Nevertheless, we are talking "career appearances" and I am therefore inclined to add the sub games to the overall appearance totals for the purposes of seeing who is fastest to the 100 goal milestone. This would make it "touch and go" with Munday.
Opinions welcomed via the "comments" section at the bottom of this page, please!

Stuart
Categories: Milestones