| | |
| --- | --- |
| Posted on November 15, 2012 at 11:50 AM | |
I stumbled across this while looking for something else; it comes from a Derby Daily Telegraph report of our game at The Baseball Ground in 1943. As ever, it was found on the splendid British Newspaper Archive website.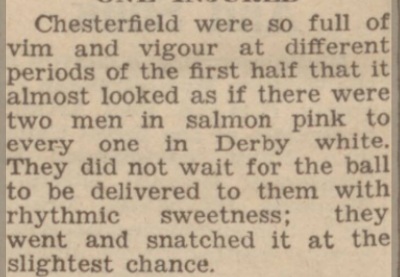 Chesterfield in a Salmon pink kit? Since these kits were popular in the 1890s, it certainly fits that we should get round to wearing one fifty years later than everyone else, but  instinct tells me that these were more likely red ones that had faded in the wash! Still, the folk who produce fahion items for the club superstore might be interested...
Stuart

Categories: Kits