| | |
| --- | --- |
| Posted on March 29, 2013 at 4:55 AM | |
Chesterfield will go into the Burton Albion game on Easter Saturday without having been awarded a penalty kick in their previous 54 Football League games. Dean Morgan's winner against Sheffield Wednesday in game number 31 of the 2011-12 season was our last. Is this a record?
That's a little difficult to establish, of course, because accurate records of penalty misses have never been kept. We can say that the club once went ninety-two games without scoring one that counted in the late 1930s, and that deserves a little explanation. Twenty-two games into that run a penalty was awarded, and scored, to give Chesterfield the lead against Newcastle, but the match was later abandoned. Still, I am minded to count that as a penalty awarded and converted, although the goal doesn't count towards any record, as such.
So the length of the run without scoring in the late 1930s extends to 66 games, being 24 games after the Newcastle one in 1937-8, and all of 1938-9. The sequence was broken in the opening game of the 1946-7 season by Ken Booker's penalty against Bradford (Park Avenue.) Remember that I only have data for those scored in this era, and not those awarded, but missed.
George Milburn converted one penalty in the FA Cup in 1938-9, so it wasn't a completely barren season, unlike the Chesterfield Town season of 1900-1, in which no penalties were successfully converted; goalies were not forced to stand on the goal line at the time, though, so scoring a penalty was rather more difficult in those days.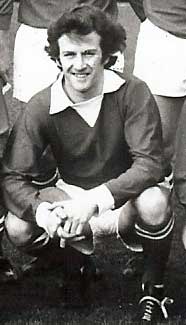 Where's Malcolm Darling, when you need him?
The club were awarded penalties early in 1954-5 and late in 1955-6, with the effect that 59 games passed in those two seasons without one being awarded. The same thing happened in 1958-9 and 1959-60, where, in an echo of the late 1930s, a 55-game run without a conversion was punctuated only by Arthur Bottom's penalty in an abandoned game at Brentford.  A Jimmy Maddison pen in game number 23 broke that run but, from there, the club went 92 games without scoring from the spot, being the rest of 59-60 (23 games,) all of 1960-1 (46 games) and the first 13 games of 1961-2. That 92 without a conversion is our longest run but add that to the run that began in 1958-9, and you have a run of 147 Football League games in which the club converted only one penalty kick that counted! That's something like three and a half seasons!
Elsewhere, it appears as though Walsall endured a run of 83 games without being awarded a penalty that encompassed all of 2010-11 and parts of the seasons before and after.
If we can avoid being kicked over in the box for our last seven games of 2012-13, then that will join 1938-9 and 1960-1 as our only seasons without a Football League penalty scored. Since I'd like to see Jack Lester get to 100 competitive goals for the club, though, I'm hoping that milestone isn't equalled!
Stuart

Categories: None