| | |
| --- | --- |
| Posted on June 8, 2013 at 1:10 PM | |
When my friend and fellow history buff Peter Whiteley emailed me to say that he had been handed the Derbyshire Times Hospital Junior Cup Competition trophy and wondered what to do with it, a bell rang. "Hold on to it," I said, "since you might have been handed something we've actually won before."
And so it proves. Despite the trophy's name, its shape led to it being more popularly known as the "Derbyshire Times Shield," and the photo below shows the victorious Chesterfield Colts team of 1946-7 being presented with the shield after beating Hardwick FC 6-1 on June 9th, at the end of a season extended by a savage winter.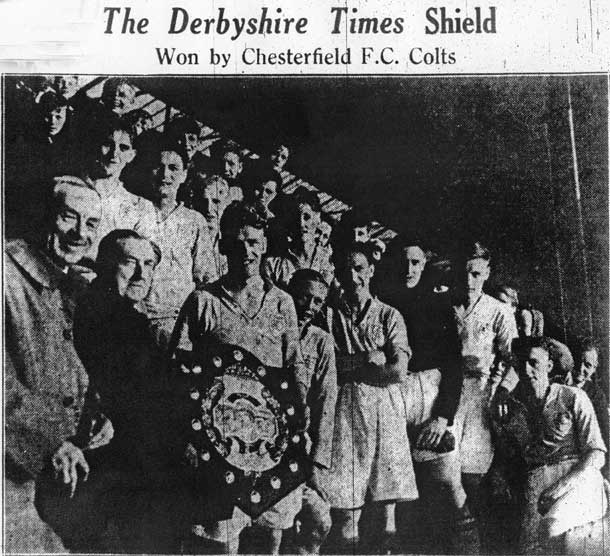 In the newspaper photo above George Langton, the Chesterfield skipper, holds the shield while his team-mates look on. The photo caption says we played a "Colts" team (our 4th XI) but the line-up was more typical of a 3rd XI "A" team game. Of particular interest to us are the youthful features of Dave Blakey, over to the right, who was making just his second appearance for any Chesterfield team and was just a few weeks into a career that lasted twenty years.
We know the names of nine of the players: George Thompson, the goalkeeper, came from Huddersfield and made no impression on our first team, but enjoyed a decent career with Scunthorpe and others. Langton had come from Butterley Welfare in the previous season, and Blakey had just joined from East Chevington Juniors, in Northumberland. Fellow halfbacks Len Hobson and J Dennison came from Swallownest Juniors and Shirebrook respectively, and the forward line included John Allison, who had come down from Northumberland with Blakey;  Jimmy Wilson, a local boy from the Derby road Methodists team; Albert Rusk, who had come from Portadown the previous season and the "Roberts" who played outside-left was most likely Harold, who played for the "A" team despite having completed 36 first-team games in 46-7.
The shield was played for during the 60s, 70s and 80s but if anyone knows any more about its history, please get in touch. Similarly, if you've got something called the Barnes Cup kicking around in the garage...
Categories: None