| | |
| --- | --- |
| Posted on August 7, 2016 at 11:25 AM | |
August 8th 2016 marks the centenary of the death of the former Chesterfield Town player Billy Gerrish, killed in action during the extended Battle of the Somme.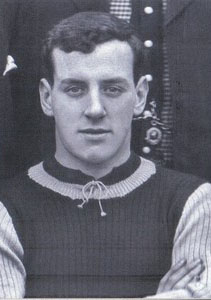 A competitive, scheming and powerfully-built inside-right, Bill was born in Bristol in 1888 and rose through local football to join Southern League Bristol Rovers in 1905. £200 paid for his transfer to Aston Villa in 1909. His side won the League championship in his first season but The Villains were unable to get the best out of a player who was occasionally difficult to manage, and they unloaded him to Preston North End three years later. He left with the very tidy record of having scored 17 goals in 55 League games, although the fact of his playing only 55 games in three seasons perhaps tells its own story.
He made only three more League appearances at Preston before they lost patience with him and unloaded him on a Chesterfield Town side that weren't badly off for forwards, having scored three goals a game in a run of seven straight wins before his debut. Whatever plan lay behind his arrival was immediately scuppered by his breaking a leg on his Chesterfield debut. He returned to play seven more games as the goals dried up, but left the club shortly before the end of the season.
His post-Chesterfield career remains a mystery; he may not have recovered from the broken leg sufficiently well to play professionally again. It did not prevent his being accepted into the 17th Middlesex Regiment - the famous "Footballers Battalion" - upon its formation in 1914. Occasional brushes with authority continued: his military conduct sheet includes a period absent without leave, and a charge of using obscene language to an NCO, while much of his surviving army record describes the battle that the unmarried mother of his son had to secure maintenance payments. Gradually, however, military life improved the man.
Gerrish helped save the life of a another man by volunteering to give blood - a thing tremendously rare, in those days - while in hospital himself in February 1915, and it was this sort of spirit that led Major Frank Buckley, the regiment's senior officer, to describe Gerrish as "…a splendid soldier, most willing and brave."
Billy was killed in the early part of the Battle of the Somme, one of 51 members of the 17th Middlesex who lost their lives on August 8th, 1916, at Guillemont. The battalion's "B" Company, normally 200 or so strong, had only ten fit fighting men left under the command of a lance-corporal at the end of that day. Billy's legs were shattered by a nearby shell burst and he is remembered laying quietly, smoking a cigarette, while waiting for stretcher bearers. Perhaps those over-worked stretcher bearers did not find him, as Billy is remembered on the Thiepval Memorial, alongside 72,000 other officers and men with no known grave.
Categories: None