| | |
| --- | --- |
| Posted on November 13, 2016 at 6:10 AM | |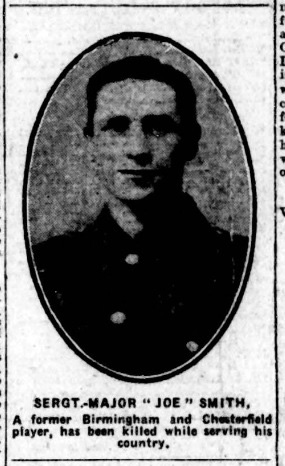 The last former Spireite to lose his life in the series of engagements known as The Battle of the Somme died on November 13th, 1916.
Joe Smith was a powerful centre-half who signed from Birmingham in the summer that war broke out. He brought firmness and leadership to the side, and quickly became a favourite. Joe joined up halfway through the 1914-15 season, along with his pals in Chesterfield's half-back line, as it became obvious that the war was not some jolly jape that would be over before it started.
Smith chose to join the newly-formed 17th battalion of the Middlesex Regiment, the famous "Footballers' Battalion," and was quickly promoted to the rank of sergeant-major. He served with distinction as the Somme conflict unfolded.
While many people imagine that "The Somme" was over and done with on one summer day in 1916, the reality was that the battle dragged on through many inconclusive engagements over several months. When the whistle blew along the trenches on July 1st 1916, two "pals" regiments - the Sheffield Pals and the Accrington Pals - went over the top to attack the strongly-fortified village of Serre, at the most northerly point of the battlefield. Their catastrophic losses have entered legend, as the Germans resisted all efforts to take the village. No further attempts were made until November 13th, 1916, when a large body of men were thrown towards the village again, with the same result. The Footballers' casualties were their heaviest in any action thus far in the war; five officers and 93 other ranks were killed; Joe Smith was among that number.
It was reported that Smith was shot and wounded during the advance but, rather than wait for evacuation, rose to lead his men further into battle, only to be shot down again. For his heroism, Smith was mentioned in dispatches a few weeks later. At the time of his death, Smith was sufficiently highly though-of to be considered for a commission.
Categories: None