| | |
| --- | --- |
| Posted on April 3, 2013 at 5:45 PM | |
One of my latest doomed-to-be-half-finished projects on the facts and figures front is a list of every opponent who has scored a hat-trick or more against us. Some time soon I'll get up to make a cup of tea, or something, and forget that I started it.
Or I might get sidetracked by people like this chap, Bert Whitehurst, the Rochdale forward from the 1920s. Why him, particularly?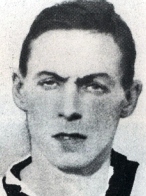 Using the lovely English National football Archive site I recorded Whitehurst getting five against us in December 1926. The site will present a player's record over a season to you, and I noticed he got a couple more in the return match. Seven in a season against the same side is some going. Bert got four against us at Spotland the following season, and another two at Saltergate in the return, meaning that he netted no fewer than thirteen goals against us in four consecutive games.
Looking further back I saw a goal for Dale against us in each of the 1923-4 and 1924-5 seasons, and another for Bradford City against us in 1928-9. After that we avoided him for several seasons, and our last encounter with Whitehurst was when he was a Tranmere player, in 1933-4. He failed to score in what became his last-ever senior appearance in English football.
In all, then, Whitehurst netted sixteen times against Chesterfield in the football League. His career saw a return of 182 Football League goals from 313 games, so something getting on for 10% of all his goals were stuffed into a Spireite onion bag. So, is this a record? Can you think of anyone else who might have scored this many against us in his career?
Stuart

Categories: Rochdale